Gift & travel sets
Give them as a gift? Or keep them for yourself?
Colourful and wonderfully practical: our gift sets are perfect for both getting to know Dr. Hauschka's natural cosmetics and for skin care on the go. That's why they are not only great to buy for others, but also for yourself.
Learn more
For questions regarding Dr. Hauschka Skin Care products and their usage
Phone +49 7164 930-55006
Monday to Friday from 8 a.m. to 5 p.m.
No results were found for the filter!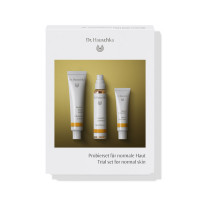 Trial set for normal skin
for nonsensitive, uncomplicated skin
refreshing facial care
three travel-size products
for cleansing, toning and moisturising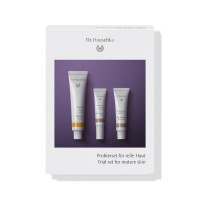 Trial set for mature skin
toning facial care
boosts skin vitality
three travel-size products
perfect for travelling or as a gift
Five different gift & cosmetics sets.
We have put together attractive gift sets for five skin types. Each set contains a product for cleansing, toning and moisturising – the three steps of our facial care concept. Choose between the set for normal skin, sensitive skin, sensitive combination skin, dry, reddened skin, or mature skin. The trial-sized products in each set are perfectly developed for use together. If you are unsure of your current skin condition, you can take our online skin test.
Which cosmetic gift sets are suitable for men?
All of them! Our natural cosmetics target specific skin conditions, not specific genders. The only important factor when choosing a set is the skin's current appearance. A little tip: If in doubt, a lot of men love our Quince Day Cream and Melissa Day Cream, so the gift set for normal skin and the gift set for sensitive combination skin are both good choices. Both these sets also contain a Facial Toner, which invigorates and refreshes the skin after shaving. All in all: the perfect gift for the men in your life.
Every gift set contains 100% natural cosmetics.
All Dr. Hauschka products are NATRUE certified natural and/or organic cosmetics. They are free from microplastics and silicones as well as synthetic preservatives, dyes and fragrances. So you can be sure that, with our gift sets & mini sets, you are giving the gift of natural beauty.