Medical dental care & oral care
Holistic dental care
Your teeth deserve care that can do more than just clean them. Care that understands about oral health, strengthens the gums and thinks along the lines of homeopathic treatments. Dr. Hauschka MED dental care products do just that.
No results were found for the filter!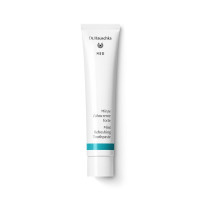 Mint Refreshing Toothpaste
thoroughly removes plaque
anti-inflammatory properties
helps stabilise the oral flora
provides fresh breath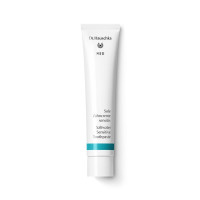 Saltwater Sensitive Toothpaste
for teeth sensitive to pain
provides gentle cleaning
prevents bleeding gums
suitable for use with homeopathic treatments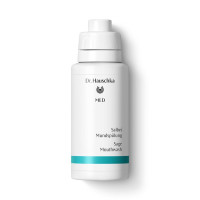 Sage Mouthwash
supports teeth cleaning
prevents inflammation
strengthens gums
provides fresh breath
Naturally effective dental care products
Dr. Hauschka MED dental care products are designed to not only clean the teeth but also strengthen the gums and oral mucosa, as well as to stabilise the oral flora. Medicinal plant extracts, natural essential oils and mineral abrasives are at the heart of all our dental products. In cooperation with doctors and pharmacists, these have been combined in our research laboratories to create effective formulations. The holistic effect on people is the key focus when selecting ingredients.
For comprehensive cleaning and dental care
We offer two toothpastes to meet different dental care needs: our Fortifying Mint Toothpaste combines extensive cleaning and oral care with long-lasting freshness for the breath. It is the perfect everyday toothpaste for all teeth types. We have also specially developed our Sensitive Saltwater Toothpaste for sensitive teeth. This cleans the teeth gently yet thoroughly and strengthens the gums. We have deliberately omitted the cooling effect of peppermint and menthol so as not to irritate sensitive teeth. Sensitive Saltwater Toothpaste is therefore also suitable for use during homeopathic treatments. You can combine both toothpastes with our ready-to-use Sage Mouthwash. This continues the cleaning and dental care in areas of the mouth that are difficult to reach. All Dr. Hauschka MED dental care products are free from added surfactants and fluorides.
The medicinal plants in our dental care products
When developing our dental care products, we select medicinal plants that offer outstanding properties for the mouth. For example, compositions with sage soothe and strengthen the oral mucosa, while dental care products with horse chestnut stabilise the gums. Although we value all of our ingredients, we believe that it is only their interaction in a unique composition that gives them such high quality. The good effectiveness and tolerability of all Dr. Hauschka MED dental care products have been confirmed by clinical tests.