Toners
Put a spritz in your step.
Every spray of our facial toners leaves your skin strengthened and refreshed. Make it a simple part of your morning and evening skin care routine.
No results were found for the filter!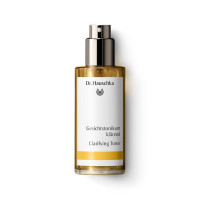 Clarifying Toner
for oily, blemished and combination skin
fortifies and clarifies
reduces impurities
regulates areas of inflammation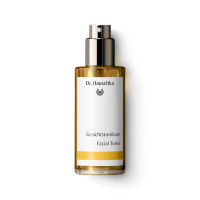 Facial Toner
for normal, dry and sensitive skin
revitalises and refreshes
strengthens the skin's natural abilities
regulates moisture processes
For a
limited
period
only
Morning Ritual
natural skin care gift set
basic Dr. Hauschka morning care
valuable products to cleanse, tone and moisturise
free: Cleansing Balm
Our much-loved toning duo.
For many customers, both male and female, a good toner is one of their favourite products. As usual with Dr. Hauschka, ours are targeted to meet the skin's different and ever-changing needs. You can therefore choose between an activating Facial Toner for normal, dry and sensitive skin and a Clarifying Toner for blemished, large-pored, oily skin and combination skin. Both formulations strengthen the skin's own powers and help provide a fresh complexion.
Toning is a basic skin-care step.
At Dr. Hauschka, basic skin care consists of three steps in the morning and evening: cleansing, toning and moisturising. Our toners provide the ideal second step in this ritual. High-quality formulations containing medicinal plants such as witch hazel and anthyllis activate the skin's metabolic activity. Our oil-free toners let your skin breathe and leave it perfectly prepared for the subsequent care step. In the morning, this may be a Revitalising Day Lotion or a Clarifying Day Oil; in the evening, a product from our night care range.
Also ideal as aftershave.
Dr. Hauschka toners are also suitable for use as aftershave. Whether you opt for the invigorating Facial Toner or the regulating Clarifying Toner depends on your individual skin condition. The method of application is the same for both: After shaving, spray on the toner and gently press in with your hands.
Welcome bursts of refreshment.
The fine, refreshing mist of our toners can be a real blessing on a hot day, providing an easy way to freshen up during work, travel, long events or celebrations. You can also spray Dr. Hauschka toners directly on top of your make-up – but, in this case, it should not be pressed onto the face.
Natural cosmetics from Dr. Hauschka.
Our two toners are a good introduction to Dr. Hauschka's philosophy and holistic natural cosmetics: We provide the skin with cosmetic impulses that stimulate its own activity. Because, actually, our skin knows innately how to look after and renew itself. Sometimes it just needs a little reminder and some gentle guidance. This is exactly what our formulations do, bringing your skin back to its natural balance. Our toners provide strengthening support. Thanks to the different medicinal plant extracts they contain, our activating Facial Toner stimulates the metabolism, while the Clarifying Toner has a regulating and balancing effect.