Medical scalp and hair care
Scalp care that has cleaned up its act.
Dr. Hauschka MED considers the scalp's individual needs: two shampoos and a mask support your dry, itchy or simply sensitive scalp – with particularly effective medicinal plant extracts and a high content of lipid-replenishing oils. For a relaxed scalp and gently cleaned hair.
No results were found for the filter!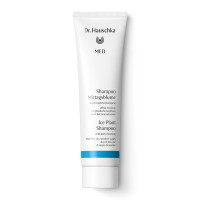 Ice Plant Shampoo
for dry, sensitive scalps
daily basic care, also in the case of atopic dermatitis
nourishes and gently cleanses
very well tolerated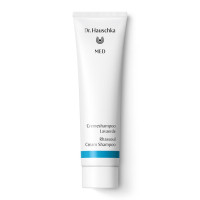 Rhassoul Cream Shampoo
for very dry, itchy, flaky scalps
intensive scalp care, also in the case of atopic dermatitis
particularly gentle cleansing
quickly soothes itching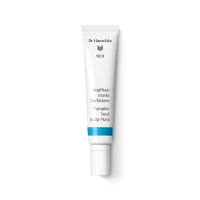 Pumpkin Seed Scalp Mask
for very dry, itchy, flaky scalps
intensive scalp care, also in the case of atopic dermatitis
alleviates dry skin
soothes the scalp with lasting effect
Systematic scalp care: combine two shampoos and a scalp mask.
Dry scalps express themselves in different ways. Our systematic medical care addresses them accordingly:
Daily basic care: If you have a more sensitive scalp or want to moisturise your dry scalp, we recommend you use the very well tolerated Ice Plant Shampoo.
Stabilising intensive care: If your scalp needs more due to itching or flaking, for example, you can switch to our intensive scalp care line. Rhassoul Cream Shampoo noticeably soothes the scalp and quickly alleviates itching whereas Pumpkin Seed Scalp Mask offers sustainably stable balance – as protection directly before washing the hair or an intensive treatment left to act for longer overnight.
Not just for atopic dermatitis: scalp care from Dr. Hauschka MED.
Our scalp and hair care range has been specially developed for the needs of very dry scalps prone to atopic dermatitis. The products are deliberately unperfumed and also suitable for those with sensitive scalps. However, they also sooth your scalp if it has become temporarily unbalanced due to severe heat or cold, dry air from central heating, chlorinated water or stress. In other words, you can use our medical scalp care products as needed – individually or combined for an intensified effect.
Usage tip: the Dr. Hauschka MED shampoos wash your hair particularly gently and therefore create a modest lather. Despite this, they go a long way and are effective.
Our scalp care: certified natural cosmetics, dermatologically tested.
Like all of our cosmetics, the Dr. Hauschka MED products are also certified by NATRUE as natural cosmetics. You can rest assured that the mild surfactants are plant based and all the shampoos are free from silicones. What's more, we use particularly effective medicinal plant extracts. For our scalp care, we primarily select moisture-activating ice plant and resilient juniper. Strengthening pumpkin seeds and mineral-rich rhassoul are also used, as well as nourishing botanical oils and waxes. We deliberately dispense with fragrances. The excellent skin tolerability of Dr. Hauschka MED Scalp Care has been dermatologically confirmed, including for people prone to atopic dermatitis.