Evening skin care steps.
This is the time to take a deep breath and find peace. At night, your skin can relax and regenerate. And you'll notice the difference in the morning, too. Sweet dreams!
Our medicinal plants for combination skin.
Medicinal plant extracts are at the heart of all Dr. Hauschka Skin Care products. They provide impulses that stimulate the skin's own innate powers – in exactly those areas where support is needed.
The best beauty routine for your combination skin.
Morning skin care steps.
Cleanse, tone, moisturise. We firmly believe in the power of this trio! That's why they form the basis of our skin care tips for you. And since no one wants to spend their life in the bathroom, all our tips are practical for every day, simple and effective. Good morning, beautiful!
Dr. Hauschka facial care for skin that's not the same all over – for more harmony and glow.
Your skin has multiple personalities and is anything but one-dimensional. Clear pores in places, spots and blackheads in others, or dry patches alongside oily patches. Your skin is a challenge! But, above all, your skin wants to be understood. And we understand it well. We also know that there are many different types of combination skin. That's why our natural cosmetics offer you a range of options to help your skin rediscover its inner balance – as well as its natural radiance and freshness.
Why your combination skin is as individual as you are.
Your skin says a lot about your health. Maybe you're using your head more than your heart at the moment. Every day is busy and full to the brim with important decisions. Perhaps you don't have as much time as you'd like for outdoor activities or sport. Your T-zone is shiny, your cheeks are dry, but blemishes are few. These are all signs of normal to dry combination skin. What your skin is lacking most is moisture and a matte appearance.
And the opposite of that? Oily combination skin where blemishes are not limited to the shiny T-zone. Certain things can quickly throw your complexion off balance – facial redness caused by alcohol or emotional stress, a lack of downtime, an unsettled feeling in your gut. This is when your skin benefits from hydration and balance.
Dr. Hauschka is different.
Your skin looks after and renews itself. Cosmetics cannot and should not get in the way of this natural process. Our cosmetics provide your skin with valuable stimuli, helping to awaken its innate powers and rediscover its natural balance. Our formulations use the best natural ingredients and medicinal plants. For combination skin, those plant heroines are melissa, anthyllis and carrot.
What does your combination skin need?
More than anything, your skin wants you to live a healthy life at your own pace and to fill your life with moments and experiences that are good for you. That includes a skin care routine that signals the start and end of your day – self-care rituals that benefit both your skin and your inner wellbeing. Simple. Natural. Beautiful.
Cleanse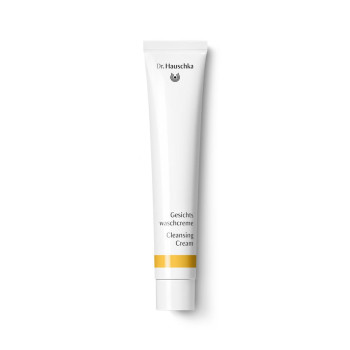 Cleansing Cream
suitable for all skin conditions
cleanses and revitalises
provides a clear complexion
helps to replenish oils Cleansing Balm
for all skin conditions
cleanses thoroughly, gently nourishes
removes light make-up
refreshing gel-to-milk texture
Tone Clarifying Toner
for oily, blemished and combination skin
fortifies and clarifies
reduces impurities
regulates areas of inflammation
Tone Clarifying Toner
for oily, blemished and combination skin
fortifies and clarifies
reduces impurities
regulates areas of inflammation
Vitalise Night Serum 20 ml
suitable for all skin conditions
basic night care product
strengthens the skin
stimulates the skin's renewal processes
Tips for combination skin.