Body wash
Enjoy unique shower experiences
Hayflowers, harvested by hand. Aromatic rosemary water. Essential lemon or stone pine oil. Dr. Hauschka shower gels offer subtle scents and gently cleanse and care for your skin with valuable ingredients.
No results were found for the filter!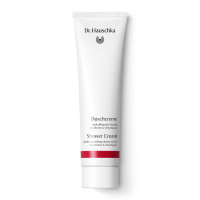 Shower Cream
gently cleanses and cares for the skin
with skin-friendly surfactants
with a refreshing, tangy scent
for daily use with all skin conditions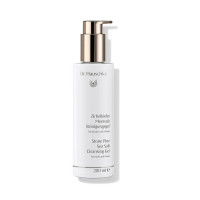 Stone Pine Sea Salt Cleansing Gel
invigorating cleansing gel
activates and tones
clears the head
for the body and hands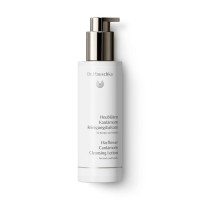 Hayflower Cardamom Cleansing Lotion
relaxing body cleanser
gently cleanses and harmonises
for the body and hands
for silky-soft skin
Shower gel packed with character
Even the product names make it clear that Dr. Hauschka shower gels each have their very own personality. Enjoy our Shower Cream with lemon and lemongrass as a zesty everyday companion or try our two exclusive products with a refined pump dispenser: relaxing Hayflower Cardamom Cleansing Lotion and invigorating Stone Pine Sea Salt Cleansing Gel. These are demanding compositions with essential oils and essences, medicinal plant extracts and valuable plant oils. We have developed them to respond to your body's thermal rhythm and act as shower gels with special notes for the morning and evening.
Shower gel or hand soap? Both!
The solid pump dispenser makes both shower gels suitable for use as premium hand soaps. After all, your hands deserve to be gently cleansed too – and you deserve moments that pamper your senses.
Sugar surfactants for particularly gentle cleansing
Mild sugar surfactants give Dr. Hauschka shower gels their cleansing properties. These create a soft lather and cleanse your skin without drying it out. We combine these natural surfactants with other ingredients such as quince seed extracts to create particularly gentle compositions. All Dr. Hauschka shower gels are kind to both the skin and the environment. What a great feeling.
A sustainable shower gel completely free from microplastic
Sustainability is a multi-faceted topic for Dr. Hauschka: all of our natural cosmetics – and therefore all our shower gels – are free from microplastic. The natural sugar surfactants are completely biodegradable and any glycerine used is always purely vegetable. Furthermore, we endeavour to make our packaging as recycling-friendly as possible. For example, the tubes and bottles for our shower gels are made from a mixture of recycled and recyclable plastic.