Combination skin sample sizes set
Natural cosmetics set for testing
Experience with this set the balancing effect of Dr. Hauschka products for combination skin
Try the cleansing, strengthening and a selection of day care products. In addition, the set includes a Dr. Hauschka night care product. The skin regulates and regains its natural balance.
Find out more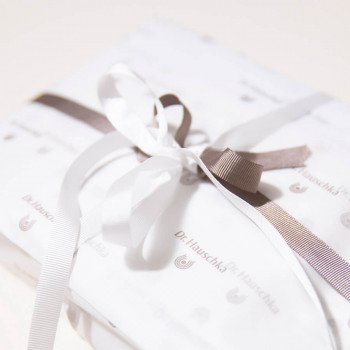 incl.
shopping
voucher
11 €
Description
1 x Cleansing Cream 10 ml:
clarifies in a mild way and refines the pores - for a pure and fresh skin feel

1 x Facial Toner Clarifying 10 ml:
gently stimulates the body's own energy Skin and regulates - gives a pure complexion

1 x Daily Hydrating Eye Cream sachet 1.5 ml:
light moisturizer, visibly minimises fine lines and wrinkles

1 x Clarifying Day Oil 5 ml:
helps the skin to sebum production normalize, the pores refine

1 x Revitalising Day Lotion 5 ml:
revives pale, dehydrated skin – formulated with apricot

1 x Balancing Day Lotion sachet 1,5 ml:
balances oily combination skin, soothes blemishes – formulated with anthyllis

1 x Melissa Day Cream 5 ml:
mattes the skin and brings it in their natural balance

1 x Night Serum 2.5 ml:
lets the skin breathe freely and stimulates the nightly Renewal processes

Shopping voucher for Dr. Hauschka Webshop
in the amount of 11,00 €
*Only one voucher per order is available. Not available for sample sizes set or gift voucher purchases.
Skin condition
For combination skin
Usage Dr. Hauschka Combination skin sample sizes set
--
Tips
You will receive the voucher for the trial size set after your order by e-mail.


Vouchers can not be used to purchase trial size sets and / or other coupons.
Only one voucher can be redeemed per order.
Subsequent offsetting of a voucher to an already completed order is not possible.


How to redeem the voucher:
1. Place the article(s) of your choice in your shopping cart and proceed to checkout.
2. Enter the code in the voucher field before you complete your order.
3. Place your order by clicking "Complete payment".
Dr. Hauschka Product Consultancy
For questions regarding Dr. Hauschka Skin Care products and their usage
Phone +49 7164 930-55006
Monday to Friday from 8 a.m. to 5 p.m.
Zum Ausprobieren toll
Die Produkte vertrage ich sehr gut. Manches ist mir zu hochpreisig. Zum Ausprobieren toll . Man bekommt sogar noch einen Gutschein von 11 Euro
Was this review helpful?
0

Vote/s
0

Vote/s
Toll zum ausprobieren und auch als Reiseset!
Was this review helpful?
0

Vote/s
0

Vote/s
Super set
Toller Set aus vielen Produkte, die Mengen reichen auch sehr gut aus, um paar Tage auszuprobieren. Klasse, dass man auch den großen Teil des Preises gutgeschrieben bekommt :-)
Was this review helpful?
1

Vote/s
0

Vote/s
Bin sehr zufrieden
Das war meine erste Bestellung bei Dr. Haushka, daher wollte ich die Produkte erstmal in kleiner Größe probieren. Schneller Versand, hochwertige Verpackung, kleine Probiergrößen, die erstaunlich ergiebig sind, also Preis-Leistung finde ich angemessen. Werde mir Gesichtsöl und Melissentagescreme auf jeden Fall holen. Das beides in Kombi macht meine Haut einfach so geschmeidig und zart. Hat noch kein anderes Produkt so geschafft. Nachtserum finde ich auch gut, das Tagesfluid mag ich nicht sooo gerne, da es sich anfühlt, als könnte meine Haut darunter nicht so gut atmen. Aber insgesamt klare Empfehlung, wenn man sich unsicher ist, ob die Produkte was für einen sind und man sich durchprobieren möchte.
Was this review helpful?
0

Vote/s
0

Vote/s
Super, vielen Dank
Super, vielen Dank
Was this review helpful?
0

Vote/s
0

Vote/s
Super Testset zu einem fantastischen Preis!!
Ich bin total begeistert von diesem Set ! Meine Mischhaut fühlt sich sehr gepflegt und ausgeglichen an! Keine trockene, spannende Stellen und keine fettigen, glänzenden Stellen mehr!! Der Preis dafür ist auch der Hammer! 16 Euro für die komplette Pflegeserie inklusive 11 Euro Gutschein!! Einfach nur Klasse! Ich benutze mittlerweile die Serie jeden Tag ( in Normalgröße) und werde dabei bleiben. Es gibt nichts besseres für meine Haut!

Was this review helpful?
0

Vote/s
0

Vote/s
Super!
Die Melissen-Produkte haben mich voll überzeugt. Meine Mischhaut fühlte sich gleich nach der ersten Anwendung viel leichter, befreiter an. Kann das Produkt uneingeschränkt empfehlen.
Was this review helpful?
0

Vote/s
0

Vote/s
Ich bin begeistert und sehr dankbar!
Ich habe für gerade mal 16€ ein Allrounder-Paket bekommen mit Proben von allen Produkten, die meine Haut braucht. Der Versand war kostenlos und das Paket war sehr schön und aufwendig eingepackt. Ich habe zusätzlich noch zwei Proben erhalten. Auf dieses Paket bin ich durch die ausführliche kostenlose (!) Online-Beratung gestoßen. Und als ob das noch nicht genug wäre, habe ich für diesen Einkauf auch noch einen Gutschein im Wert von 11€ erhalten (bei einem Einkauf von 16€)! Vielen, lieben Dank für diesen Kundenservice. So gewinnt man wirklich langfristig treue Kunden! :-)
Was this review helpful?
1

Vote/s
0

Vote/s
Dr. Hauschka Combination skin sample sizes set - Please review the product and share your experience: