Sophisticated, mature skin sample sizes set
Natural cosmetics set for testing
Try the high-quality Dr. Hauschka skin care products for mature skin.
The timeless beauty and vitality set includes products for cleansing, strengthening and revitalizing. Day care with eye cream and neck and décolleté cream and body care. Experience a noticeably new and smooth skin feeling.
Find out more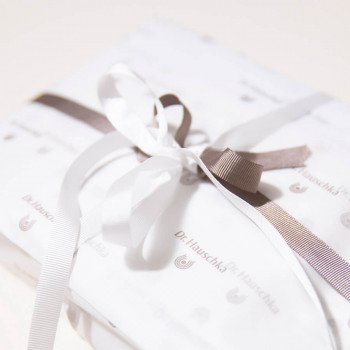 incl.
shopping
voucher
6 €
Description
1x Cleansing Cream 10 ml:
refines, revitalizes and deeply cleanses

1 x Regenerating Serum 2,5 ml:
refines and tones mature skin

1x egenerating Oil Serum Intensive Sachet 1,5 ml:
daytime support to help firm and reinforce the skin's moisture barrier

1x Regenerating Day Cream Intensive Sachet 1,5 ml:
rich facial skin care, fortifies the skin's structure, promotes firmness

1x Facial Toner 10 ml:
enlivens and fortifies

1x Regenerating Eye Cream Sachet 1,5 ml:
visibly minimises fine lines and wrinkles

1x Regenerating Hand Cream Sachet 1,5 ml:
intensively smoothing skin care with an active moisturising effect

1x Regenerating Day Cream Sachet 1,5 ml:
refines and tones mature skin


Shopping voucher for Dr. Hauschka Webshop
in the amount of 6.00 €
*Only one voucher per order is available. Not available for sample sizes set or gift voucher purchases.
Skin condition
For mature skin
Usage Dr. Hauschka Sophisticated, mature skin sample sizes set
--
Tips
You will receive the voucher for the trial size set after your order by e-mail.


Vouchers can not be used to purchase trial size sets and / or other coupons.
Only one voucher can be redeemed per order.
Subsequent offsetting of a voucher to an already completed order is not possible.


How to redeem the voucher:
1. Place the article(s) of your choice in your shopping cart and proceed to checkout.
2. Enter the code in the voucher field before you complete your order.
3. Place your order by clicking "Complete payment".
Dr. Hauschka Product Consultancy
For questions regarding Dr. Hauschka Skin Care products and their usage
Phone +49 7164 930-55006
Monday to Friday from 8 a.m. to 5 p.m.
Bin sehr zufrieden
Sehr gute Auswahl der Probepackungen. Bin mit der Qualität sehr zufrieden. Keine Spannung auf der Haut und sehr angenehm nach dem Auftragen.
Hätte gerne alle mir zugeschickten Produkte gekauft, aber mit den Kosten/Preis hapert es bei mir noch.
Mit freundlichen Grüßen
Was this review helpful?
0

Vote/s
0

Vote/s
Zu wenig Tagescreme
Ausgerechnet für die teure reichhaltige Serie gibt es keine 5ml Probiergrössen. Zwar umfasst das Set 10ml Tonikum, aber mit 1,5ml Tagescreme kommt man nicht weit. Vor einem Kauf von >100€ Hätte ich gerne Serum und Tagescreme 2-3 Tage getestet.
Was this review helpful?
0

Vote/s
0

Vote/s
From:
Dr. Hauschka Team
On:
5 May 2022
Vielen Dank für Ihr Feedback. Ein Sachet der Regeneration Tagescreme 1,5 ml reicht für eine Anwendung von ca. 2 Tagen. Alternativ empfehlen wir Ihnen das Probierset für reife Haut. Hier ist eine Probiergröße der Regeneration Tagescreme mit 5 ml enthalten.
Alles bestens
Meine Erwartungen wurden vollstens erfüllt.
Habe gleich noch für meine Freundinnen nachbestellt.
Was this review helpful?
0

Vote/s
0

Vote/s
Gut zum Testen
Das Sortiment ist ein guter Einstieg um die Serie Regeneration zu testen.
Was this review helpful?
0

Vote/s
0

Vote/s
Effektiv und sanft für reife Haut
Sehr schön zum Ausprobieren dieser wunderbaren Pflegelinie geeignet. Die Produkte sind allesamt sehr verträglich und versorgen meine empfindliche und Reife Haut ideal.
Was this review helpful?
0

Vote/s
0

Vote/s
Tolle Produkte. Sehr sparsam anzuwenden. Gut verträglich. Und die Haut fühlt sich einfach toll an.
Tolle Produkte. Kann man einfach nur weiter empfehlen. Verträglichkeit ist super. Die Haut fühlt sich toll an.
Was this review helpful?
0

Vote/s
0

Vote/s
teilweise eine Entdeckung
Ich hatte das Set eigentlich wegen der Augencreme bestellt. Z.Zt. benutze ich die normale Hauschka Augencreme, die ich zwar vertrage, aber die mir etwas zu wenig Pflege bietet. Meine extreme empfindliche Neurodermitishaut reagiert leider auf die Regeneration Augencreme (wie übrigens auf alle der zahlreichen von mir durchprobierten Augencremes auch) . Dafür finde ich das Tag-und Nachtserum und das Ölserum echt herrlich. Und Augencreme mit etwas Tag- und Nachtserum darunter ist auch wieder wirklich gut.
Was this review helpful?
0

Vote/s
0

Vote/s
Sehr gute Produkte
Sehr gute Zusammenstellung für die reife Haut. Meine Favoriten sind das Ölserum und die Tagescreme balance. Tonikum und Waschcreme sind sowieso top. Einzig das Tag und Nachtserum taugt mir gar nicht, weil klebrig und die Haut spannt danach.
Was this review helpful?
0

Vote/s
0

Vote/s
From:
Dr. Hauschka Team
On:
27 Jan 2022
Vielen Dank für Ihre Bewertung. Wir empfehlen, das kurzfristige Spannungsgefühl zuzulassen, um Ihrer Haut genügend Zeit für die Umstellung zu geben. Außerdem kann es helfen dieses Gefühl zu vermeiden, wenn Sie die Menge etwas reduzieren oder vorher ein Gesichtstonikum anwenden.
Sehr gute Pflegeprodukte
Einige Pflegeprodukte von Dr. Hauschka haben mich überzeugt und ich habe auch schon ein Fluid und ein Tonikum im Fachgeschäft gekauft und ich werde weiter die Produkte von Dr. Hauschka testen um meiner Haut die optimale Pflege zu geben. Meine Kritik/Idee zur Verbesserung: Ich hätte es sehr gut gefunden, wenn ich mir das Probierset selbst hätte zusammenstellen können, gerne gegen Aufpreis. Ferner finde ich 1,5ml zum Testen mehr als suboptimal, dass ist einfach VIEL zu wenig, dass reicht nicht aus, dass man anschließend 52,-€ für ein Produkt (Tagescreme Regeneration Balance) ausgibt. Diese Größe sollte nur als Giveaway in Fachgeschäfte dienen, mehr aber auch nicht! Das sollte intern dringend diskutiert werden.
Was this review helpful?
0

Vote/s
0

Vote/s
From:
Dr. Hauschka Team
On:
10 Jan 2022
Vielen Dank für Ihre Bewertung und Ihre Anregung.
Mir gefällt mein Hautbild nach knapp einer Woche sehr
Ich verwende seit Jahren die "normale" Dr Hauschke Serie und möchte gerne soweit möglich die Produktlinie für die reife Haut benutzen. Dazu lasse ich die Produkte auslaufen. Mir gefällt das Öl Serum Intensiv
Was this review helpful?
0

Vote/s
0

Vote/s
Kein Urteil möglich
Augencreme ist super, Waschcrem sehr gut. Das ander muss ich noch testen
Was this review helpful?
0

Vote/s
0

Vote/s
Tolles Probierset
Das Probenset wurde sehr schnell geliefert. Es lagen viele nützliche Informationen und Broschüren dabei. Die Probiergrösden haben mir sehr bei der Auswahl der Produkte geholfen.
Was this review helpful?
0

Vote/s
0

Vote/s
From:
Barbara Bender-Palm .
Gute Präparate aus der Region.
Was mich störte war, das mehrere aufs Gleiche ausgerichtete Dinge dabei waren. Z.B. mehrere Seren und Nachtcremes , dafür nur eine getönte Tagescreme, was ich sonst nicht benutze. Aber ich kann mir durchaus vorstellen, partiell zu Dr. Hauschka zu wechseln.
Was this review helpful?
0

Vote/s
0

Vote/s
Bestellung Probiergrößen Anspruchsvolle, reife Haut
Bei meinem Telefonat mit dem Team der Produktberatung bekam ich eine sehr gute Beratung. Die Produkte verträgt meine Haut sehr gut. Ich bin absolut begeistert.
Was this review helpful?
0

Vote/s
0

Vote/s
Haut spannt
Ich bin noch am Ausprobieren, hatte aber von Anfang an mit Ihrer fettfreien Nachtpflege Schwierigkeiten. Aus diesem Grund habe ich die Nachtkur-Ampullen bestellt, aber auch damit fehlt mir eine reichhaltigere Pflege. Meine Haut spannt, und ich fürchte, daß dies nach nun über einer Woche Behandlung nicht besser wird.
Was this review helpful?
0

Vote/s
0

Vote/s
From:
Dr. Hauschka Team
On:
14 Oct 2021
Vielen Dank für Ihr Feedback. Die fettfreie Nachtpflege der Dr. Hauschka Kosmetik unterstützt die gesunden Rhythmen und den nächtlichen Stoffwechsel der Haut. Wenn die Haut abends spannt, zeigt Ihnen Ihre Haut, dass sie sich regt. Dass sie aufwacht und wieder aktiver in den Regenerationsprozess einsteigt. Das Spannungsgefühl dürfen Sie also als gutes Zeichen werten und darauf vertrauen, dass es sich bald legt. Mit einer pflegenden Maske z.B. der Reichhaltigen Crememaske oder der Aufbauenden Maske am Ende des Tages (die Sie bitte vor dem Schlafengehen abnehmen) und anschließendem Auftragen der Nachtkur Ampullen, helfen Sie Ihrer Haut, in ihr natürliches Gleichgewicht zurückzufinden.
Ich musste erst noch rausfinden, welche Serie für meine Haut die Beste ist! Das funktioniert sehr gut mit den Probiergrößen und der beiliegende Pflegeplan ist super!
Was this review helpful?
0

Vote/s
0

Vote/s
wunderbar zum Ausprobieren
Eine tolle Zusammenstellung, wenn man sich noch nicht für eine bestimmte Creme/Pflege aus der Hauschka -Serie entschieden hat.
Was this review helpful?
0

Vote/s
0

Vote/s
Danke Hauschka
Diese Serie "verjüngt" die Haut! Danke Dr. Hauschka
Was this review helpful?
0

Vote/s
0

Vote/s
Alles super!
Ein schönes Set, alles liebevoll verpackt. Ich bin mit den Produkten und dem Service sehr zufrieden!
Was this review helpful?
0

Vote/s
0

Vote/s
es hat mir leide nicht alles gepasst.
Guten Tag,
habe mir bei dem dr.Hauschka probe Packung gefreut. bin nicht ganze überzeugt für allen product. die Tagscream in dem Packung habe ich Allergisch reagiert.
Die Gesichtswaschcreme habe ich zu beste gefallen.
Als ich die probe Packung gekauft haben, soll ein Gutschein geben. möchte noch die renigungsmilch probieren und ein paar duschen Produkt.
men haut ist etwas empfindlich, möchte weiter Dr. Hauschka Product entdecken.
Mit freundlichen Grüßen,
ying
Was this review helpful?
0

Vote/s
0

Vote/s
Tolle Cremes (probiergrössen für reife Haut)
Ich bin bisher zufrieden. Konnte noch nicht alle Cremes aus dem Set ausprobieren aber das was ich probiert habe ist toll. Meine Haut sieht tatsächlich glatter aus und fühlt sich straffer an. Ich finde es super das man die Probiersets für verschiedene Hauttypen bestellen kann. DAUMEN HOCH!
Was this review helpful?
0

Vote/s
0

Vote/s
Handcreme Mittagsblume
Von dieser Handcreme bin ich restlos begeistert.
Nachdem ich die Probe getestet habe, werde ich nur noch diese Creme verwenden. Sie schmiert und fettet nicht, ist angenehm auf der Haut und macht einfach weiche und schöne Hände.
Vielen Dank für die Probe.
Was this review helpful?
0

Vote/s
0

Vote/s
Dr. Hauschka Sophisticated, mature skin sample sizes set - Please review the product and share your experience: