Make-up sample sizes set
Natural cosmetics set for testing
Bring your beauty to shine with Dr. Hauschka make-up products.
Find out more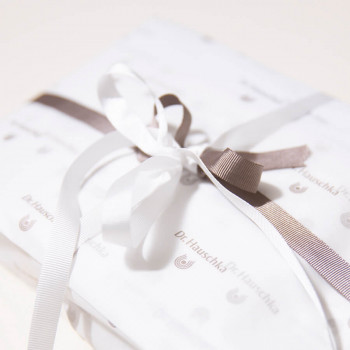 incl.
shopping
voucher
11 €
Description
1 x Tinted Day Cream 5 ml:
cleans gently and thoroughly, removes itself waterproof make-up

1 x Soothing Cleansing Milk 10 ml:
gently frees the skin from dirt and make-up and preserves its natural protective cloak

2 x Foundation 03 chestnut 1,5 ml

2 x Foundation 02 almond 1,5 ml

1 x Mini Volume Mascara black

1 x Translucent Bronzing Tint 2,5 ml
for a radiant, sun-kissed complexion, adds a bronze glow to any moisturiser

Shopping voucher for Dr. Hauschka Webshop
in the amount of 11,00 €
*Only one voucher per order is available. Not available for sample sizes set or gift voucher purchases.
Skin condition
For every complexion
Usage Dr. Hauschka Make-up sample sizes set
--
Tips
You will receive the voucher for the trial size set after your order by e-mail.


Vouchers can not be used to purchase trial size sets and / or other coupons.
Only one voucher can be redeemed per order.
Subsequent offsetting of a voucher to an already completed order is not possible.


How to redeem the voucher:
1. Place the article(s) of your choice in your shopping cart and proceed to checkout.
2. Enter the code in the voucher field before you complete your order.
3. Place your order by clicking "Complete payment".
Dr. Hauschka Product Consultancy
For questions regarding Dr. Hauschka Skin Care products and their usage
Phone +49 7164 930-55006
Monday to Friday from 8 a.m. to 5 p.m.
Tolle Auswahl zum Probieren ?
Eine kleine schöne Auswahl um das Makeup kennen und lieben zu lernen, passt perfekt im jede kleine Tasche 💋 passt zu jedem Hauttyp
Was this review helpful?
0

Vote/s
0

Vote/s
Sehr gute Produkte, schneller Service
Bin sehr zufrieden
Was this review helpful?
0

Vote/s
0

Vote/s
...
Was this review helpful?
0

Vote/s
4

Vote/s
From:
Dr. Hauschka Team
On:
24 Apr 2023
Vielen Dank für Ihre Bewertung. Über ein kurzes Feedback, wieso Sie mit unserem Make-up Probiergrößen Set nicht zufrieden waren, würde wir uns freuen.
natur mit bestem preis-leistungsverhältnis in liebevoller verpackung +
die probiersets sind immer eine ideale kombi zum testen und für unterwegs.
Was this review helpful?
3

Vote/s
0

Vote/s
Probiergrößen waren hilfreich
Zunächst möchte ich zwei drei Worte über die Verpackung verlieren. Bewusst ökologisch freundlich verpackt - dennoch mit einem großen Wow-Effekt. Man sieht die Sorgfalt und dass die Kund:innen sich freuen sollen.
Toll!
Die kleinen Probiergrößen von Dr. Hauschka sind fair, da man erst das Produkt ausprobieren kann, bevor man das Geld für das Produkt ausgibt, das zu einem "passt".

Dr. Hauschka hat mich in vielerlei Hinsicht überzeugt.
Meine Haut ist (sie wirkt nicht nur) zarter und reiner und ausgeglichen.
Fast alle Produkte, die ich ausprobiert habe, habe ich in der "echten Größe" gekauft.
Meine Haut ist schon 50 Jahre alt, aber sie sieht frisch und lebendig aus.
Jede / jeder muss sein Produkt finden, aber es ist nicht schwer.
Absolute Empfehlung meinerseits.
Was this review helpful?
6

Vote/s
0

Vote/s
Die Mindestversandkosten sind zu hoch. Ich bestelle nicht mehr.
Ich werde nichts mehr kaufen. Den Preis für die Produkte würde ich wegen der guten Inhaltsstoffe akzeptieren. Aber die Versandkosten sind weit über dem, was üblich ist (4,00€ bei einem winzigen Produkt).
Was this review helpful?
3

Vote/s
0

Vote/s
From:
Dr. Hauschka Team
On:
4 Oct 2021
Vielen Dank für Ihr Feedback. Beim Kauf eines unserer ausgewählten Probiergrößensets erfolgt der Versand Ihrer Bestellung kostenfrei. Die aktuellen Versandkosten und ab welchem Warenkorbwert die Bestellung versandkostenfrei ist finden Sie unter folgendem Link: Zahlung&Versand Einen unserer Markenpartner vor Ort finden Sie über unsere Händlersuche.
Gut zum Testen
Sehr gutes Set zum Testen, dabei stellte ich fest, dass die Make Up Töne Cashew, Pine und Almond zu hell für meinen Teint sind, ich bleibe dann also bei Chestnut, aber gut verträglich sind sie alle und man hat nicht das Gefühl, geschminkt zu sein.
Die Wimperntusche ist auch sehr gut verträglich! Super, dass auch ein Gutschein dabei ist!
Was this review helpful?
2

Vote/s
0

Vote/s
Foundation gut, Mascara so lala
Die Foundation waren zum probieren optimal, so konnte ich meine richtige Tönung für die nächste Bestellung herausfinden.
Bei dem Mascara bin ich leider enttäuscht.
Für den Winter wo die Luft nass/feucht ist, verläuft der Mascara total schnell bei kleinster Feuchtigkeit an den Wimpern. Man kommt dann kaum hinterher die Farbe ordentlich von der Haut runter zu bekommen. Er riecht angenehm und nicht so nach Chemie wie die sonstigen Mascara aus dem Drogeriemarkt, aber leider bin ich von ihm nicht überzeugt, sehr schade.
Was this review helpful?
3

Vote/s
0

Vote/s
From:
Dr. Hauschka Team
On:
11 Mar 2021
Vielen Dank für Ihre Bewertung. Bei der Dr. Hauschka Volume Mascara handelt es sich um ein Präparat, mit natürlichen Inhaltsstoffen. Eine hohe Haftfähigkeit wird in herkömmlichen Wimperntuschen durch hohen Einsatz von chemisch-synthetischen Zusatzstoffen erreicht. Wir empfehlen, das Bürstchen vor dem Auftragen gut am Flaschenrand oder an einem Kosmetiktuch abzustreifen. Für eine bessere Haftfähigkeit kann man die Wimpern vor dem Auftrag mit etwas Puder bestäuben.
Dr. Hauschka Make-up sample sizes set - Please review the product and share your experience: